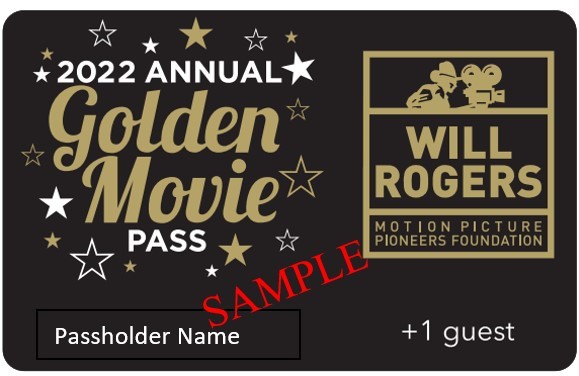 The Golden Movie Pass Program is a benefit to long-time supporters of the Will Rogers Motion Picture Pioneers Foundation, providing retired members of the motion picture industry with the opportunity to see movies on a complimentary basis. The pass is given as a Thank-You to supporters who: (1) have donated a lifetime total of at least $500, AND (2) are retired (or of retirement age) from the motion picture industry. For more information, or to apply for the Golden Movie Pass, call (888) 994-3863, ext. 2363.
*** Please Note: some theaters may have suspended acceptance of any passes during the pandemic. If you're not sure whether or not your preferred theater currently honors passes, we suggest calling them ahead of time. ***
The Golden Movie Pass is valid at participating theaters and will admit the holder (must present valid photo I.D.) and one guest Monday through Thursday only. The Pass is not valid for special engagements or no-pass screenings. Inquire with individual theaters as to whether or not they exclude, or require a surcharge, for special format screenings (3D, IMAX, etc.). Some theaters have implemented a two-hour window for advanced ticketing using any passes; please check with the individual location regarding its policy on advance sales. The pass can only be used for one movie per day at any given location. If for any reason the Golden Movie Pass is not accepted at a participating theater, please call toll-free (888) 994-3863 to let us know the theater name and location.
For current passholders only: if you wish to donate and renew online, click on the Donate button, fill in your information and type "movie pass renewal" in the Notes box.
The pass has been made available through the generosity of the following theaters:
AMC/Loews
B&B Theatres
Bow Tie Cinemas
Celebration Cinemas*
Cinema West *
Cinemark USA*
Cinépolis USA*
CMX Cinemas *
Commodore Theatres
Coral Gables Art Cinema*
Dipson Theatres
Fox Theatres
Galaxy Theatres*
Goodrich Quality Theatres
Harkins Theatres*
High Sierra Theatres
Krikorian Theatres
Laemmle Theatres*
Landmark Theatres
Malco Theatres*
Marcus Theatres
Megaplex Theatres*
Metropolitan Theatres Corp.
National Amusements
Netflix-Paris Theater & Bay Theater only*
Phoenix Theatres*
Reading Cinemas
Regal Entertainment Group*
Regency Theatres
Southern Theatres*
Spotlight Theatres
Studio Movie Grill
Ultrastar Cinemas
*Theatre-Specific Restrictions:
*Theatre-Specific Restrictions:
Celebration Cinemas – some films may be excluded for the 1st two weeks of release
Cinema West – excludes IMAX, CS/AT, D-BOX, 3D, and alternative event programmings
Cinemark USA includes Century Theatres, CineArts, Tinseltown and Rave Cinemas
Cinépolis USA does not include The Bay Theatre in Pacific Palisades
CMX Cinemas – excludes IMAX, D-BOX, PLF and special event screenings
Coral Gables Art Cinema excludes opening night events
Galaxy Theatres – excludes Galaxy Luxury Plus Theatres; passes accepted two weeks after a film's release date
Harkins Theatres does not include Camelview@Fashion Square, Cine Capri, Cine 1 or 1XL. Excludes 3D, IMAX and alternative event programming.
Laemmle Theatres – excludes opening day
Malco Theatres excludes IMAX and alternative programming
Megaplex excludes opening night
Netflix – valid at the Paris Theater (Manhattan, NY) and Bay Theater (Pacific Palisades, CA) only.
Phoenix Theatress – excludes opeing night or Fathom Event screenings
Reading International includes: Reading Theatres, Angelika Film Centers, Consolidated, City Cinemas. Excludes: 3D, IMAX, TITAN XC, TITAN LUXE, and premium (recliner) auditoriums.
Regal Entertainment Group includes: Regal Cinemas, Edwards, and United Artists. Excludes IMAX, RPX, 3D, 4DX and ScreenX engagements.
Southern Theatres excludes opening night, 3D, IMAX, D-Box and GPX .
We wish you many hours of movie enjoyment!