MENTAL HEALTH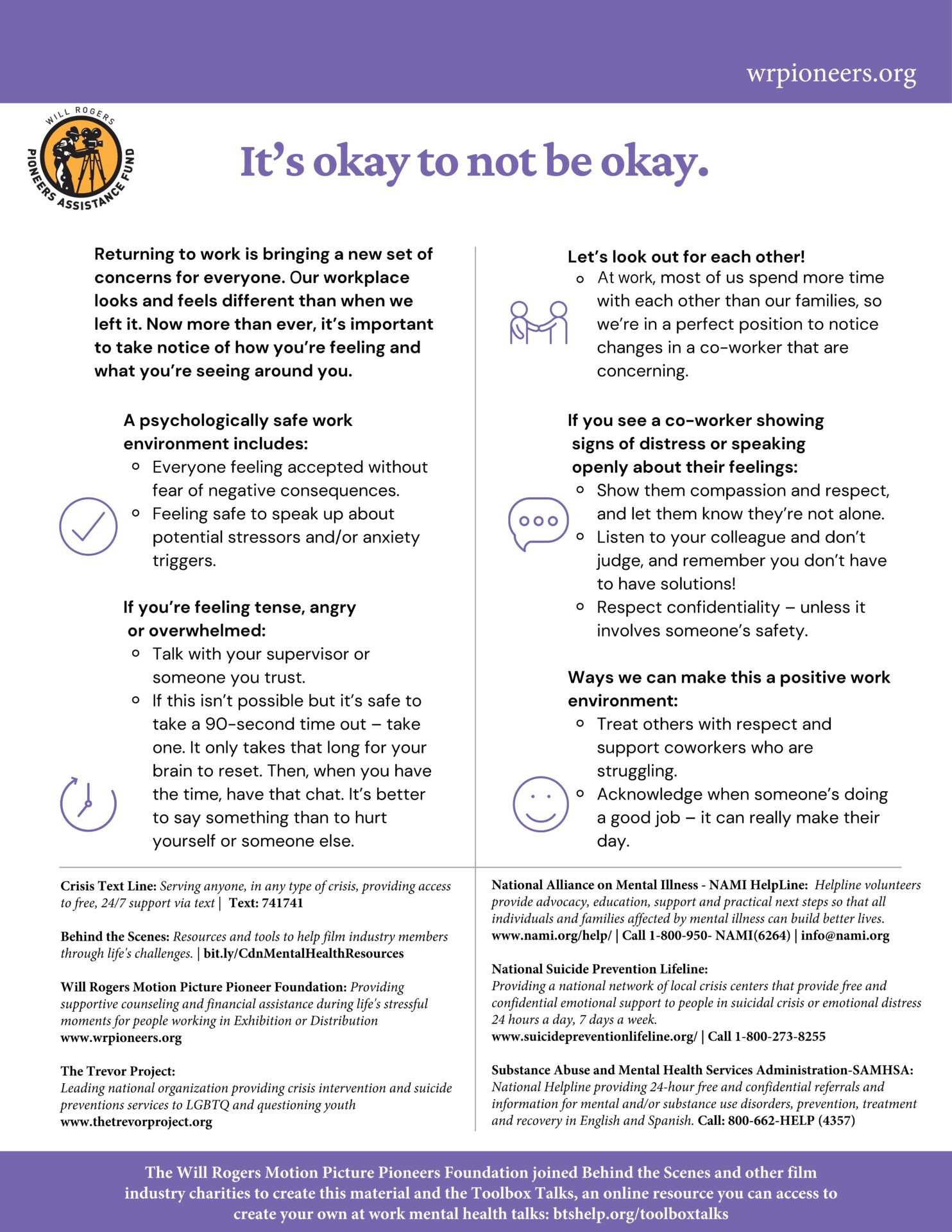 IT'S OK NOT TO BE OK
Helpful tips and resources compiled by our Social Workers and the team at Behind the Scenes designed to help you create your own at work mental health talks.
X
X
X
X
ALZHEIMER'S AND MEMORY LOSS
FORGETFULNESS: KNOWING WHEN TO ASK FOR HELP
Includes information on age-related changes in memory, other causes of memory loss, keeping your memory sharp, and more serious memory problems.
LEGAL AND FINANCIAL PLANNING FOR PEOPLE WITH ALZHEIMER'S DISEASE
FACT SHEET
Tips from the National Institute on Aging.
DEATH AND DYING
ADVANCE CARE PLANNING
What is Advance Care Planning? Getting started. Making your wishes known. Making it official. Looking toward the future.
MOURNING THE DEATH OF A SPOUSE
What can you do? Do men and women feel the same way? Is there more to do? Taking charge of your life. What about going out?
DEPRESSION
UNDERSTANDING DEPRESSION
Includes treatment basics, your treatment options, helping yourself, a note to family members.
HEALTHCARE AND HOSPITALIZATION
CHOOSING A DOCTOR
Distinguish what kind of doctor is needed and helpful questions to consider.
Hospital Hints
How to prepare for a hospital stay. Includes safety tips and what to take with you.
MEDICINES: USE THEM SAFELY
What are medicines? At your doctor's office. Ask your pharmacist.
HEARING LOSS

HEARING LOSS
How do I know if I have a hearing loss? What should I do? What causes hearing loss? What different types of hearing loss are there?
MANAGING CARE
Elder Abuse
Defines types of abuse and what can be done to prevent it.
SO FAR AWAY: 20 QUESTIONS AND ANSWERS ABOUT LONG-DISTANCE CAREGIVING
Problem solving tips for caring for a loved one from afar.
ONLINE HEALTH INFORMATION: CAN YOU TRUST IT?
How do I find reliable health information online? What questions should I ask? Places to start.
PREVENTIVE HEALTH
EXERCISE AND PHYSICAL ACTIVITY: GETTING FIT FOR LIFE
Four ways to be active and other tips to get you moving.
Fatigue: More Than Being Tired
Includes tips on how to identify signs of fatigue and how to address chronic tiredness.
HIGH BLOOD PRESSURE
Do you have it and how to control it.
OLDER ADULTS AND ALCOHOL
How much is too much?
Taking Care of Your Teeth and Mouth
Includes dental health basics, how to brush, visiting the dentist and eating right.
Osteoporosis: The Bone Thief
How to recognize and prevent bone loss.
Smell and Taste: Spice of Life
How to spot changes in the ability to smell and taste.
MANAGING STRESS
Filled with a variety of practical tips and advice, this brochure is an essential guide for managing stress. Includes stress triggers and symptoms, relaxation techniques, lifestyle changes, stretching exercises, and environment modifications.
OLDER DRIVERS
Includes information on trouble seeing, dementia and driving slower, reaction time and reflexes, medications and their affect on driving.
PARTICIPATING IN ACTIVITIES YOU ENJOY – MORE THAN JUST FUN AND GAMES
Tips from the National Institute On Aging.
SEXUALITY IN LATER LIFE
Guide includes what are normal changes, what causes sexual problems, safe sex and age, and can emotions play a part.
WALKING FOR BETTER HEALTH
Guide includes a walking game plan, safety tips, health benefits, and overcoming roadblocks and excuses.
SENIOR HOUSING
NURSING HOMES: MAKING THE RIGHT CHOICE
What is a nursing home? How do you choose? Do nursing homes have to meet standards? Paying for nursing home care.
THERE'S NO PLACE LIKE HOME – FOR GROWING OLD
Tips from the National Institute on Aging.